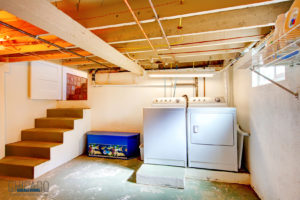 Sometimes, raised homes with street level or driveway leading basements present the perfect opportunity to create a custom garage. If you are not using your basement space for much else besides sporadic storage, you  may decide to create a customized garage space in your basement area – here's a guide to this great transformation, as prepared by the custom garage door experts at Garage Doors Chicago.
Why Turn a Basement into a Garage
Does your home or business have less than adequate storage space? Do you find yourself wishing you had a convenient place to put away tools, bins, or equipment? Are you sick of finding street parking? And lastly, do you have a basement level that can be connected to the driveway? If so, you might really benefit from transforming your basement into a garage. It's a great way to think outside the box and deliver creative solutions for your storage needs. Replace patio doors on walk out basements with an electric garage door fit with a professional garage door opener. Then, insulate the walls and ceilings to bring the new garage space up to code. This results in extra storage space not just for your belongings, but also any vehicle you have.
Turning Basements into Garages
You can purchase a garage door of any size to perfectly fit the opening of your basement. Garage doors as tiny as 5 feet wide by 7 feet tall, or even 25 foot wide ones are all market options. You can even create a garage large enough to house an RV if you are blessed with a massive street level, or driveway connected basement space. Really, based on the size of your existing space, anything is an option! When considering customization, we stress the value of using secure windows in your garage design. As long as you ensure windows are reinforced and can lock (if they are openable,) they can add for the flow of beautiful natural light as well as a great level of charm to your home.