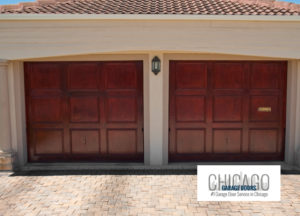 Here at Garage Door Repair Chicago we receive tons of questions all the time about purchasing a garage door – here's a brief guide to our most common questions.
Should I get a wood or metal garage door?
Each one of these materials have their own unique benefits and drawbacks. Wooden garage doors are ideal for their sense of warmth. Steel or aluminium garage doors are low maintenance. However, there's additional features that can bolster both of these garage door types.
Should I get an insulated or uninsulated door?
This depends on how you utilize the garage, if it's attached or detached from your home, or if it's heated. If you have a room over the garage or use it for other purposes besides car storage, we recommend getting an insulated door.
Should I get polystyrene or polyurethane insulation?
Polyurethane provides higher levels of thermal performance than polystyrene based on door thickness. The thicker the door with polyurethane foam is, it has a higher thermal resistance value.
What's the lifespan of a garage door?
This depends on how it's constructed, but we like to provide an estimate of over 20 years. The paint finish of a primer coat and two baked on top coats should remain as long as you wash it twice a year.
Should I get a double garage door or two separate single doors?
Two single doors can be a practical choice, as if the opening mechanism isn't working, you can still get your cars out. However, this depends on your aesthetic preferences.
Should I use extension or torsion springs?
If you have 12 inches of headroom, we recommend torsion springs, as since the system is installed over the garage door, all the weight of it is concentrated on the anchor plate in the center. Extension springs utilize two coiled springs over the horizontal tracks that work separately.
What's a good amount of headroom over the door?
We recommend 14 inches, 12 for normal, and an extra 2 for the electric door opener. However the true minimum amount of space is 6 inches. In this situation we use a double track system for reduced headroom.
Should I put windows in?
You want to consider security as well as lighting. If there's no other windows in the garage then choosing to install some can be practical, for ease of use within the garage. You need to pay attention to, however, whether the windows are secure or would compromise your security.